The last few weeks have seen quite a run of achievements for me, this blog reached its first birthday at the end of October, last weekend my City and Guilds certificates arrived, and today this blog has reached its 100th post.
It seems quite fitting that this post should be about another milestone; my first felted dress. Being a nuno felt dress the template was HUGE, 1 m wide by 2 m long, forcing me to work on the floor. Not something I like to do as I ache for days after spending all day crawling around on all fours.
The dress didn't quite go to plan, no matter how much I rolled and worked them the shoulder straps were still far too long so I resorted to cutting them down and sewing seams across the shoulders. Here it is drying on the mannequin.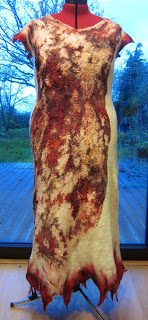 The front
The back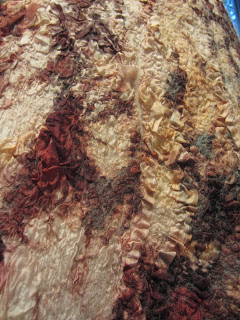 Close up of the silk panel
Now I just need to pluck up the courage to wear it to work!
Here are a couple of other pieces I have been working on too. They are both winged pods but very different styles.
This first one reminds me of undersea creatures so I am thinking of dyeing it aqua blue / green colours.
The second one reminded me of a helter skelter so I dyed it red and yellow. Here it is before dyeing.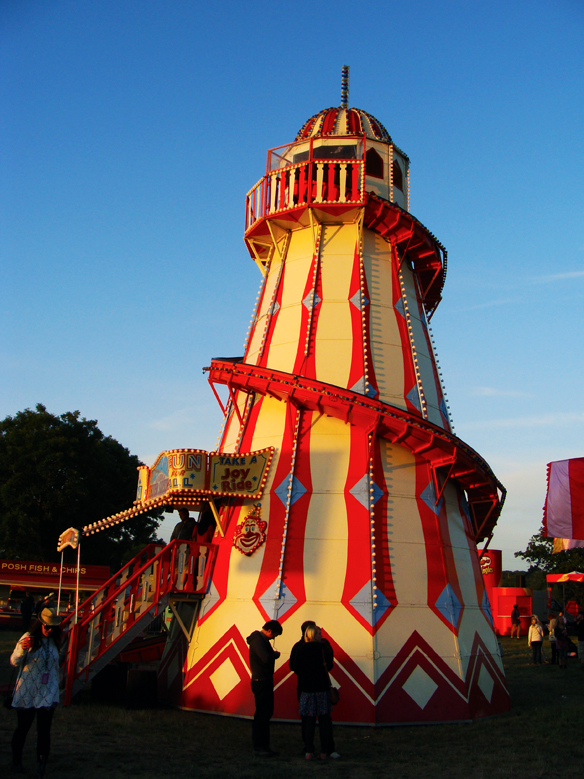 A helter skelter slide
And after dyeing
I will be attending the Rural Life Museum Christmas Fair this weekend in Tilford and would really love to see you there if you are in the area.
Linking up to nina-marie, off the wall Friday