This quarter's challenge from the felting and fibre studio was to dye or blend our colours to match samples from a colour pallet generator. I only had an afternoon this weekend for felting so decided to bend the rules a little. I found a photo I liked in Pinterest and plugged it into a colour pallet generator with this result: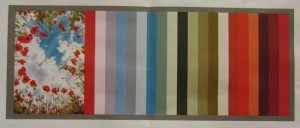 Instead of blending / dyeing my own colours, I rummaged through my wool stash for the closest colours I could find to pallet of colours above: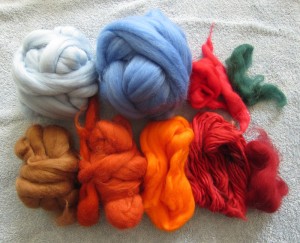 I decided to make something small, a phone case for an iphone I haven't even bought yet. I know, I'm a little bit mad but when I get an idea in my head I rarely have the patience to be sensible.
Keeping to the flower theme of the original photo, I created a resist based on phone dimensions I found on the web and started laying out my wools and found some scarlet cotton in my scrap bag along with some pieces of hand-dyed prefelt that I thought would work well with this colour pallet (another deviation from the challenge brief).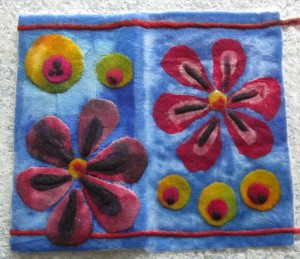 This is the nearly finished case, I just need to trim the pocket where the phone will sit, but I will wait for the phone to arrive before I do that final step, even I'm not that brave/stupid/reckless (delete as appropriate).
Here it is drying (front and back):
I'm already thinking about adding some machine embroidery to the front flap….