This is week 2 of Ruth Lane's online Experimental Screen Printing class, and we are making screens for deconstucted screen printing. I was starting to run out of a couple of dye colours and was thinking of buying a squeegee so treated myself to a little trip to George Weil, my local Aladdin's cave of textile and art goodies. Even though they are only 10 minutes away, I try to stop myself going there, I rarely leave them without spending at least £100. Today was no exception but I did come away with this for £40:
So now I have the squeegee I went in for, plus an extra screen, some screen printing inks (might be good for some canvas shopping bags I was thinking of decorating) and a selection of treatments for the screens from blocking agents and photoreactive agents that allow you to transfer images from a computer to a screen. All very exciting!!
I made a start preparing my screens too, and had an absolute ball, I wasn't expecting this bit to be half as much fun as it was 🙂
This one is bubble wrap:
Holding the screen up to the light, I adore the patterns on the big bubble wrap especially: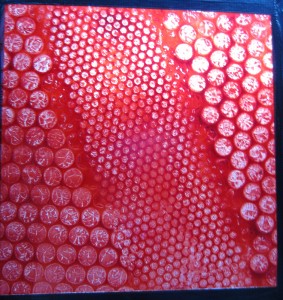 And printing the residual dye from the bubble wrap onto some nuno felt: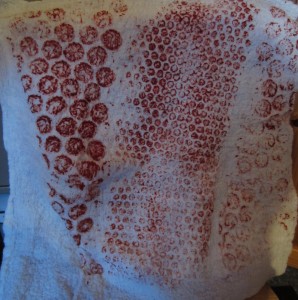 I loved the bubble wrap effect so much I used it again with some oak leaves: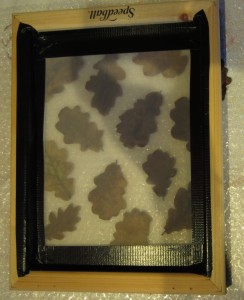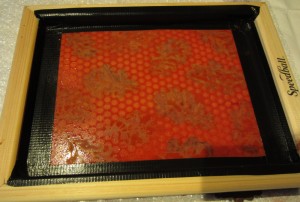 Holding the screen up to the light, I'm not as enthusiastic about this one but it has potential and you never can tell what the next step will do to the design…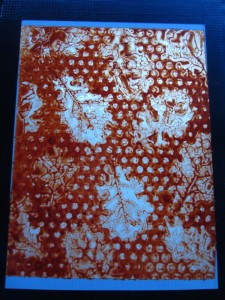 For my last screen I cut some shapes out of cardboard and laid them over a piece of nuno felt (I figured it would be nice to have the excess dye land on some fabric instead of being wasted):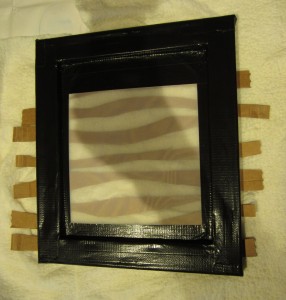 I used 2 different colours for this one, after lifting the screen away: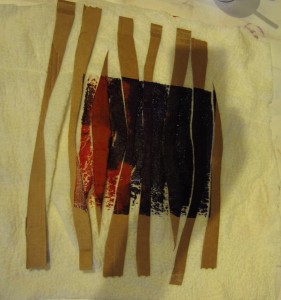 I flipped the dye covered pieces of card over and pressed them into the fabric on either side of the print and really like the more subtle effects: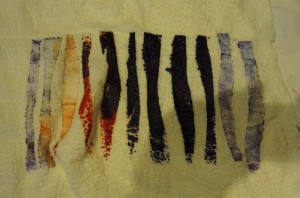 And this is the screen, waiting to dry, it's interesting how the texture of the nuno felt has created a mottled effect, compared to the other 2 screens there is very little dye on this one, it will be interesting to see how that affects the final prints: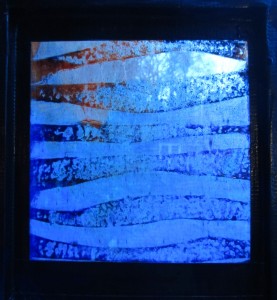 Have you tried deconstructed screen printing? What is your favourite background texture?
For those of you reading by email, this is the link to the web page: blog post