The lovely Ruth Lane from the Felting and Fiber Studio Forum is creating a book of contemporary designs and posted a request for interpretations of a couple of designs in different art forms, this is my interpretation of the Nature design in nuno felt.
I started by increasing the size of Ruth's pdf on a photocopier to make it more manageable for felt and traced that design onto the dull side of some freezer paper. This was ironed onto a piece of black prefelt.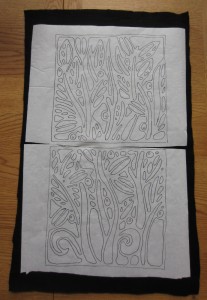 Then cut out the internal sections to leave a black felt frame. I wetted out the prefelt to help the silk pieces stay in place.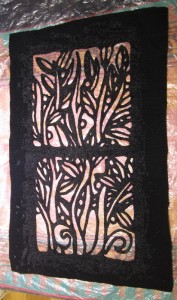 Then I started laying out pieces of hand dyed silk chiffon, trimmed so that they overlapped the black prefelt.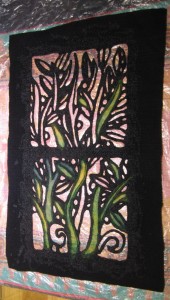 Once all the cut-out areas had been covered with silk, I laid a piece of white prefelt over the back, if you want to hang your piece in a window so that it will be seen from both sides you can carefully place black wool over the chiffon edges to cover them.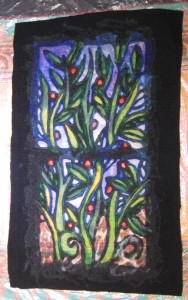 When I flipped it over the freezer paper was still attached to the front, this was very carefully removed so as not to pull the black prefelt out of position.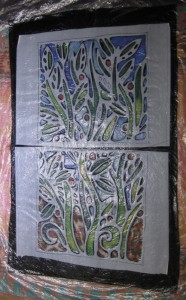 Then I gently rubbed the surface through some decorator's plastic to fix the silk and wool into position before rolling it.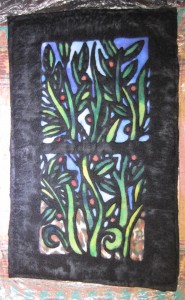 Take care to check the prefelt has not moved off the silks after every 100 rolls.
The finished wall hanging: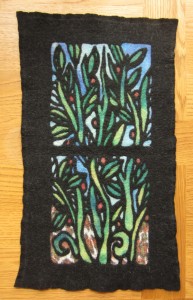 I think it looks a lot like looking through a window into a garden full of vines. I'm toying with the idea of adding some embroidery and squaring up the frame but I also quite like it as it is and don't want to ruin it! What would you do?