Over on the Felting and Fiber Forum, Judith (AKA Koffipot) very kindly compared my chain and flame hats to David Schilling's creations. I confess I had never heard of him before this discussion, although I did recognise some of his Royal hats, I thought one of them might have been princess Beatrice's "toilet seat hat" as Ann so aptly described it 🙂 but it turns out that this is a Philip Treacy hat.
Looking through a gallery of his work I started to wonder if some of the shapes could be realised in seamless felt….? Looking at his hats has sparked a few ideas that I hope to realise in felt.
One of them looked like a gift-wrapped box and I wondered if I could make a small stack of felt boxes set at jaunty angles. This is the block for the base of the stack and a test run to see if I could make a felt box stiff enough to keep its shape when worn: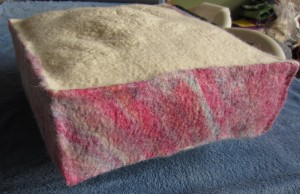 Keeping with the resist theme, this hat used the book style resist I wrote about last week.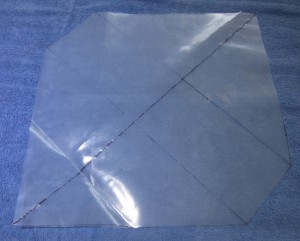 Adding some hand-dyed cotton: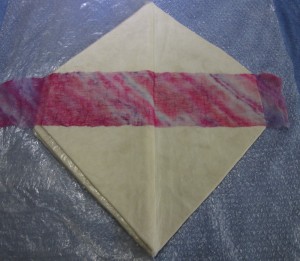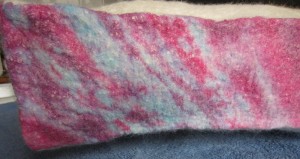 I have also been doing some home work for the dressmaking course I started a couple of weeks ago, but I'm afraid I made a boob… cutting the last panel for my dress I forgot to flip the pattern piece to get a mirror image and didn't realise until I had cut the piece out. Now I don't have enough fabric to complete the dress so I will have to make some more 🙁 But I need to make some felt for Ruth's screen printing course so I will just make a job lot 🙂
This is the dress I will be making (no changing my mind now if it doesn't work!):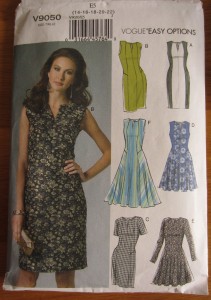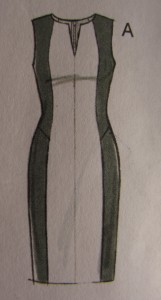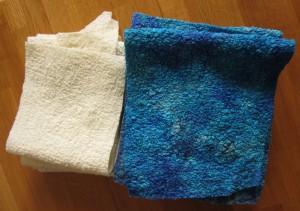 The white will create the centre panels with the blue forming the panels down the sides.
I also made a start on the prep work for Ruth's experimental screen printing class that started yesterday, I have made 2 screens, 1 large and a smaller square one.
Pickle inpsecting my handiwork, he has been told in no uncertain terms these are NOT scratching posts!
More on the screen printing course later…
For those of you reading by email, this is the link to the web page: blog post
Sorry, I still haven't found a plug in that will automatically include a link 🙁