It's been a busy week but my challenge piece is finally finished! 🙂
Since my last post I added some embroidery to sharpen up the edges of the orange prefelts. First I had to choose some threads, I'm a big fan of the Gutterman Sulky threads for machine embroidery, they are reliably strong and have a lovely sheen that looks wonderful next to felt.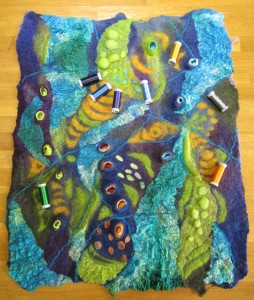 I started with the orange stripes in the top left quadrant.
I'm really pleased with the colour blending of the threads and the beautiful 3D effect you get from this style of stitching on felt.
Of course, it's impossible to stop at one small area when you start with free motion embroidery….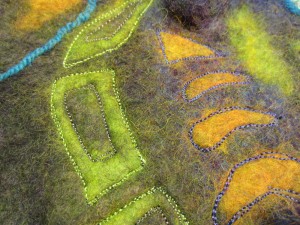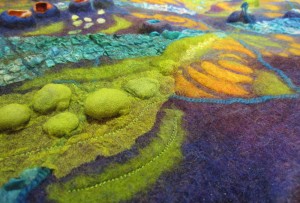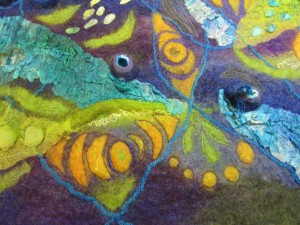 When I went to bed it looked like this: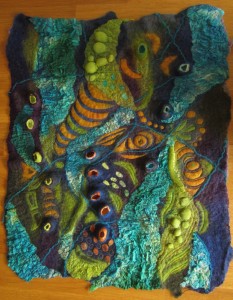 When I woke up this morning I looked at it again and took it back to the sewing machine – spot the differences….
I have been planning to hang this piece on stretcher bars from the start. Most of my felt hangings are sturdy enough to stretch directly over the frame but this one is a bit finer, it might be alright but I don't think it is worth risking it stretching and sagging in the middle so I hand stitched some poplin cotton to the back for extra support.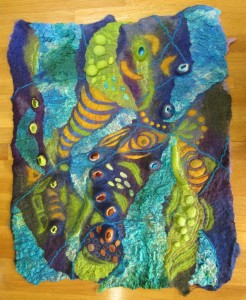 Before stretching it over the bars ready for hanging: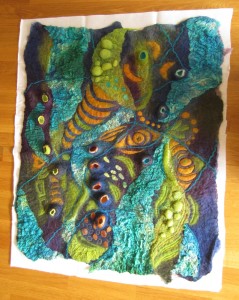 Finally some close ups from the finished hanging: