I have been asked to teach a group of school children to make a felt picture and the theme will be "autumn", I love autumn, it is easily my favourite season. While researching images to inspire the children I found a post on Pinterest that read, "my favourite colour is October", I couldn't agree more! All the rich, vibrant oranges, golds, crimsons singing on a backdrop of deep green, what's not to love?!
Today has been spent preparing for the class in 2 weeks' time, first dyeing a stack of prefelts in mottled autumnal colours and then creating a felt picture to use as an example of what they might like to make. Being only A4 in size (approx 12″ x 8″) it was surprisingly difficult to achieve the level of detail I had in mind.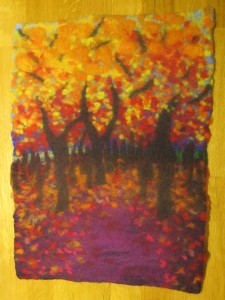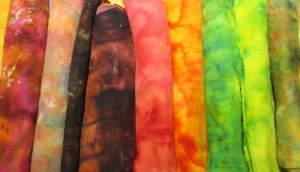 I am really looking forward to this class but it is going to be hard to keep my hands off these prefelts in the meantime! 🙂
Writing of classes, Alison, from my concertina hat class, forwarded some photos of her snail hat that she finished after the class ended, thank you Alison, she looks wonderful. The perfect summer cap! 🙂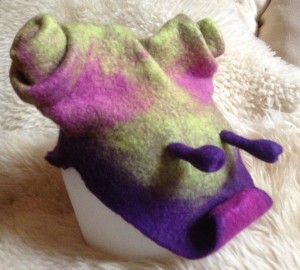 We will be running the concertina hat class again next month, if you would like to join in please pop over to the Felting and Fiber Studio pages for more details and the sign-up form. If the the last class was any indication it will be a lot of fun and there will be some wonderfully fantastic hats made. Don't delay though, the closing date for registration is 31 October 2016.