The last few weeks have been incredibly busy… After 9 happy years working for Eli Lilly and Company I handed in my notice, it was a  very difficult decision, the people I work with are so wonderful I am already grieving at the thought of not seeing them every day. I hope we will stay in touch but I know how difficult it is to maintain friendships if you don't meet up regularly.
Now I am finding that it is very true what they say about job hunting be a full time occupation in itself but at least I am in the fortunate position of being able to be selective about which opportunities I apply for.
Last week was spent in sunny Devon, attending 2, two-day workshops with the very talented Judit Pocs, a felt-maker from Hungary.  The first workshop was in Tiverton, making hats. I have attended a hat making workshop with Judit before and she was so generous with the variety of styles and techniques that she taught in that first workshop, I wasn't expecting to learn any new techniques, I was approaching this workshop as a fun activity vacation. I couldn't have been more wrong!
The whole group managed to finish at least one hat in the 2 days, most of us had at least started a second, even if, like mine it wasn't finished before we had to leave the community centre.
The next few photos are of the "cat hat" I made first, I'm very happy with how the sequins in the ears and the silk over the felt "bumps" turned out.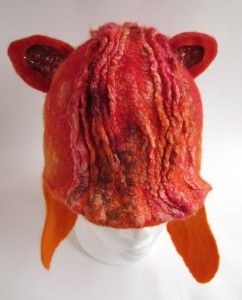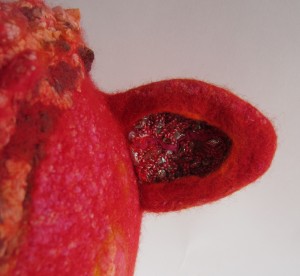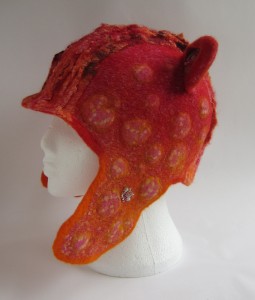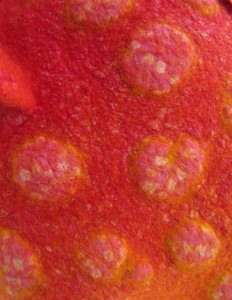 In the last couple of hours I made use of one of my screen-printed prefelts to make a "boxy" hat.
This was the prefelt before laying out the hat: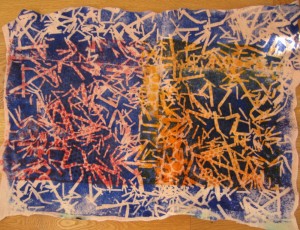 And the (nearly) finished hat, it just needs a couple of stitches to hold the felt ring in place: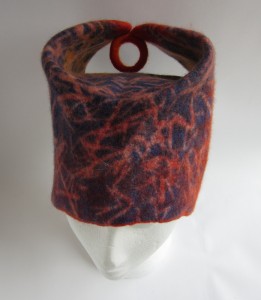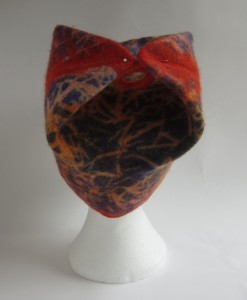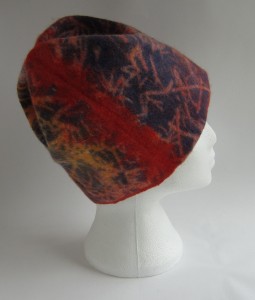 As with the other printed prefelts, the finer details of the print, such as the orange circles from the bubble wrap, disappeared but the rest of this print was so bold it has held up well to fulling.
Judit also ran a bag workshop after the hat workshop, more on that soon!