Yesterday I was offered a sales table at my work's annual Xmas market / fair. I am so excited, this is the first time I have tried to sell my work face to face, I have been bouncing around like a child on Xmas eve! At first I was worried that I would not have enough items, but looking around I realise I have loads of very saleable felt and willow goods that I have made, it is just that most of them need final details or care labels. I spent most of last night stitching care labels onto toys, scarves and hats so I had about 20 items ready to go.
This morning I sprayed 5 willow sculptures with wood preservative, they will take a few days to dry but are also good to go. This afternoon I have been mounting textile art onto mountboards and canvases and putting the pieces on mountboard into cellophane envelopes, that's another 20 pieces ready to go. I am amazed by my own nervous energy, there are things that have been sitting in "nearly finished" piles for months that are suddenly finding their way to the finished pile. It is amazingly cathartic to see so many pieces finally complete.
I also found time today to repeat the wet felting of my stags at sunset picture that I have been needle-felting recently, the black is much more black now and repeating the wet felting has removed the fuzziness and tiny holes you get from needle-felting. I just need to decide how to hang it now…
One of the pictures I mounted was the sea hollies wall hanging, I think it looks great mounted on a canvas slightly smaller than the felt, giving the impression that it is floating away from the wall.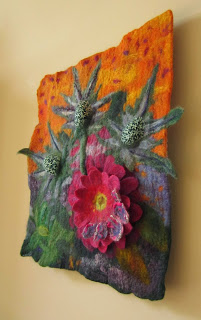 And I even managed to finish felting a handbag: